Why the Lexus LC500 Is the Perfect Halo Car
Blog
Aug 11th, 2017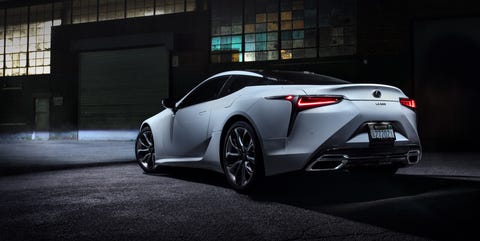 The horns won't stop honking.
It's not because I'm driving like a turd. Nearly every time I get to a light, the car next to me honks gently to get my attention. The driver of that car is smiling and enthusiastically giving the thumbs up. Sometimes they gesture that they want me to roll the window down. Most of the conversations go something like this:
"That car is gorgeous. What is it?"
"Right? Lexus LC500."
"I've never seen a Lexus like that!"
That's far different than the conversation that you'll have in any other Lexus, mainly because you won't be having one. People aren't pulling up next to an ES, IS, or even an RC F and trying to get the driver's attention.
But you knew that. You likely think of a Lexus as a nicer Toyota. That's a perception the company has been trying to shake for years. Company head Akio Toyoda is a racer at heart, and it pains him that the cars are seen as boring appliances.
To shed that image, Lexus started injecting performance cars into the lineup. They built the V8-powered IS F to compete with the BMW M3. The LFA was heralded as one of the greatest cars of all time and a fittingly Japanese take on the supercar. Cars like the RC F and GS F both use naturally aspirated V8s while all competitors have gone to turbo power. That engine may be down on torque, but it sounds and feels so much better. Those cars are superb on a backroad and a highway, making them excellent grand tourers, but are too heavy to be amazing on a track.
The LC is not a track weapon either. And that's fine. Just look at it.
It's as close to a concept car as you can get on the street. The front end is impossibly low, with headlights encased in what looks like titanium. On certain color LCs (read: not silver), it really stands out. The side profile is sleek, with flush, Aston Martin-like door handles and a floating roofline. Around back, the taillights disappear into the trim when they aren't lit. When they are lit, there are layers to them, like the OLED tails in a BMW M4 GTS. You can stare at them for hours.
The nuttiness continues inside, where the LC has knobs that feel more expensive than entire cars, suede that is far nicer than any leather (the red in our car is the color to get), and door handles that are just floating in the middle of the door, nothing around them. The only bad part is Lexus's infotainment system, which has a mouse for some reason and is probably the most infuriating system on the market.
Since you can't look at the exterior when you're driving, and, let's be honest, you can't really look around and appreciate the interior either, this car needs to drive well. And it truly does, depending on your expectations.
The LC500 doesn't wear an F badge on it, even though it has the RC F and GS F's 5.0 liter, 471 horsepower, 398 lb. ft. V8 (you can also get a hybrid). That's important, because if it had the F badge, the same (wrong) expectations of track readiness could be placed on the LC that are on the RC F and GS F. It'd let you down.
If you want the LC, you want a large GT car that has a free revving V8 that sounds unreal, a smooth ride, and a seriously comfortable interior. It delivers on all those things. It's an excellent high-speed GT coupe that's surprisingly agile in the corners. You also get a 10-speed gearbox, which is a bit of a conundrum. It works just fine, with smooth shifts in auto mode and quick, rev-matched ones in manual. The problem is that it's just way too many gears. The LC is geared tall, and that means you really only have three gears to let it hit redline before you're breaking all local speed limits. Then you have seven more gears that are effectively for the highway.
The solution? Just drive the LC as a GT car with occasional bursts to redline. It won't let you down, but we'd prefer to have the ratios shorter so we could enjoy that V8 sound.
Manufacturers introduce cars like this as a halo for the brand. They know that it won't be the best seller in the lineup, but it will generate interest from people who otherwise wouldn't care. Most halo cars are insanely expensive and you only see them at car shows, dealers, or on YouTube. But the LC isn't $300,000 like the LFA was; it starts at $92,000 for the V8 and $96,510 for the hybrid. Not economy car cheap, but attainable. People will buy them. You'll see them on the road, at the store, parked on the street. You'll start thinking that maybe you want a Lexus instead of something from Germany.
And that's exactly what Akio Toyoda wants.
Source: http://www.roadandtrack.com/new-cars/first-drives/a10268262/why-the-lexus-lc500-is-the-perfect-halo-car/