The 2016 Lexus LX Is Stronger, Better, and More Luxurious
Blog
Feb 9th, 2016
There's a particular phenomenon that happens behind the wheel of certain cars.
Call it the Jekyll and Hyde complex.
Some, like the 2016 Lexus LX 570, make me feel rather more domineering than is my normal character. Ten minutes inside this polished tank, and I'm Genghis Khan, sitting so high and mighty in my chariot above the pavement that I might as well be the leading conquering hordes toward Brooklyn.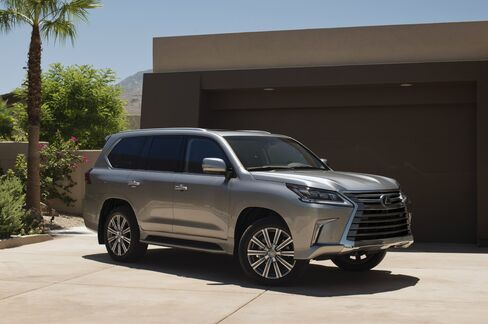 I'm punching the gas to get right up thisclose on the back of some poor doddering Camry; I'm storming over potholes with the fury of a warlord. The extensive series of speed bumps along 12th Street don't begin to phase me.
If I actually owned this car, it would no doubt do serious damage to my driving record (and friend count). But for the week I drove it, I'm pretty sure my testosterone levels reached a peak high. If you've got a problem with low self-confidence, buy this SUV and get over it.
Good Style, Big Body
The 2016 version of the $89,000 LX is stronger, more luxurious, and better looking than its predecessor. I drove its little sister, the 2016 RX, last month, to less than stellar results. So I thought I'd try the big boy this week. Maybe it would be better.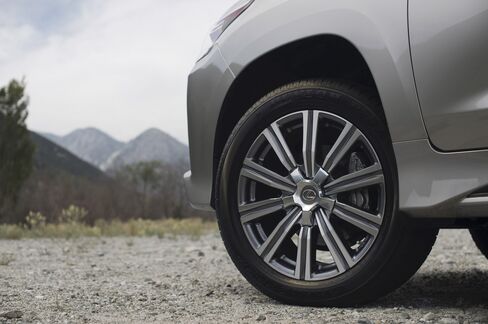 Unlike the RX, which is the epitome of overstyling, the LX retained enough of its previous body to keep calm and collected. It is large—just over 199 inches, deeper than the Olympic pool standard for a 10-meter platform dive—but it avoids visual lumbering as well as Toyota's sleek, square Land Cruiser and Mercedes's posh G-Wagon.
This is the most extensive refresh on Lexus's flagship premier SUV since 2008. The improvements show from first glance: The broadened new grill is pinched in the middle like the waist on a Dior new look, then set off by a row of three LED lights set on each side like diamonds in a ring; the 20- or optional 21-inch wheels sit wide along the rectangle hulk and lifted rear of the body. If you feel like putting spinners on this ride, I won't tell you no.
Luxurious Interior
New inside this year, Lexus has added LED ambient lighting in both the cabin and cargo areas, a sublimely smooth, three-spoke, wood-trimmed steering wheel, manual sunshades for the second row. It won't give you real driving contact with the road or anywhere near athletic handling (though the steering is tighter than, and preferable to, the RX), but it ties in perfectly with the marble-smooth details on the console, dashboard, and edges.
The superb Mark Levinson sound system ($2,350) tops most others I've heard in pricier rigs; the nearly foot-long dual rear seat entertainment screens and headphones ($2,005) complete the general home-theater mood you feel from the moment you get inside. You'll want the cooling box ($170) and luxury package with ventilated and heated front and rear seats to complete the effect.
New-School Joystick?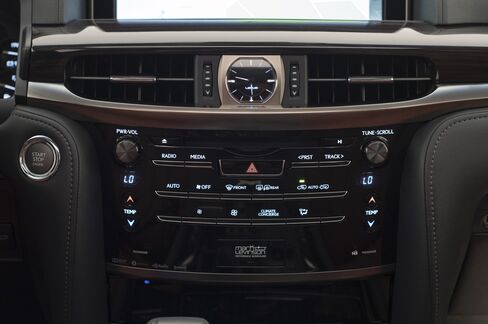 The upgraded multimedia system with a 12.3-inch screen in the dash, standard panoramic view camera and available heads-up display are functional. That is the most and best I can say about them. I have criticized the system before—most recently here—and I stand by that assessment. Anything in the large SUVs from Audi, Bentley, BMW, Mercedes, Porsche, or even Cadillac is better—clearer, more concise, more intuitive, and more appealing to see. But I kind of get it. Driving on our way to dinner one night, a stylist friend told me, "This joystick thing is a system for people who play video games—my little brother would be all over it."
It rang true. Of course, the next question is, how many people who might consider buying this expensive block of an SUV are gamers? I'm guessing not many. I will stick to the knob over on the far right of the dash, despite its distracting-at-best, unsafe-at-worst distance from the steering wheel.
Dominate the Road, Slowly
Back to my Khan fantasy—maybe I'll just have the person sitting in the passenger seat control the radio anyway. I need to focus on leading those hordes. It's an understatement to call this car tall. I had to look DOWN at the city bus drivers to my right as I passed them down New York's Second Avenue. And you must access that front seat by stepping on the baseboard and then stepping UP into the car. Operating the LX will put in the mind of Queen Elizabeth when she inspects the troops—visualize her driving a tank, and you'll approximate the feeling.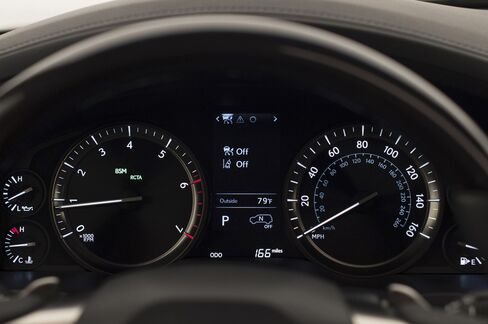 The LX has the same 5.7-liter V8 engine it had last year but comes with a new 8-speed automatic transmission that works dutifully if not expediently. The drive system controls responses of the Adaptive Variable Suspension (AVS), a boon that continually adjusts shock absorber damping to ensure optimal comfort even as the road surface changes. (Sport S mode enhances powertrain response and lessens power steering; Sport S+ adds firmer damping control to prioritize what little agility is there already.) Total thrust is 383 horsepower across multiple drive modes; top speed is 133 mph, with a zero-to-60 mph time of 7.3 seconds. For reference, the $91,300 Mercedes GL 550 can do it in 5.5 seconds, and that's not even the fastest version.
Whatever is quick, nimble, fast, light on its feet—is not this. When you ask LX to accelerate, it feels as if the car is dragging a 7,000-pound sledge behind you (that is the towing capacity, by the way). Or trying to sprint up a sand dune. Avoid Eco and Comfort modes at all costs. They feel like you've put the car into slow-mo. Of course, once you've gathered some real momentum, you can bear down on pretty much anything. It just takes a second or two. And, as I found out while driving the LX through New York's record-breaking blizzard, it does splendidly in heavy snow.
Average miles-per-gallon efficiency in the LX is 15 mpg—far less than the old Ford Model T got way back in 1914. And, more importantly, less than competitors from Audi, BMW, and Mercedes.
Those who consider the LX for purchase are more likely to be inclined to appreciate the seating for eight and that leather-thickened interior than any nod to fuel efficiency. The LX is not quite as complete a luxury treat as the Mercedes G-Wagon nor as rugged off-road as the Land Rover Range Rover—but it does beat the Escalade for subtle elegance inside and the Lincoln Navigator for general styling.
You won't find an athlete here, but you will find a capable and attractive luxury conveyance that is competitive at least in its segment—and better for your money than the smaller offerings from Lexus. Just make sure you watch your attitude. Mr. Hyde can be a beast to deal with.