Strawberry Tiramisu for Two
Blog
Mar 23rd, 2016
"Tiramisu is Italian for 'pick me up'. This light, roll your eyes, taste bud tantalizer has become a traditional wedding anniversary dessert treat that I've been making for my husband and me for 17 years. You might call it a happy hubby dessert! This is my easy version of a classic with the elimination of raw eggs and a wonderful fresh strawberry layer and puree base. It's delicioso! It is made to accommodate two extra large portions."
4 servings 638 cals
Ingredients:
Directions:
Cut off the tops of the strawberries and slice the berries. Reserve 2 large whole berries for garnish.

In a blender, place 2 cups of strawberries and 2 tablespoons confectioners sugar; blend to puree and set aside.

In a medium bowl, combine mascarpone cheese, 1/4 cup cream, 1/4 cup sugar, and liqueur; beat with an electric mixer on medium-high speed for 1 to 1 1/2 minutes until thickened.

Place 6 ladyfingers on a serving plate and brush each with approximately 1 teaspoon cold espresso coffee. Spread or pipe out 1/2 of the cheese mixture over the ladyfingers, and layer with half of the sliced strawberries.

Repeat with the next 6 ladyfingers, espresso, remaining cheese mixture, and sliced strawberries; top with remaining 6 ladyfingers.

In a small mixing bowl, combine 1/4 cup heavy cream with 2 tablespoons sugar; beat with an electric mixer on medium-high speed until just whipped, approximately 1 minute. Spread cream evenly over top layer of ladyfingers.

Dust cocoa over whipped cream, and garnish with 2 reserved strawberries. Pour strawberry puree onto two serving plates. Cut tiramisu in half, and place onto puree.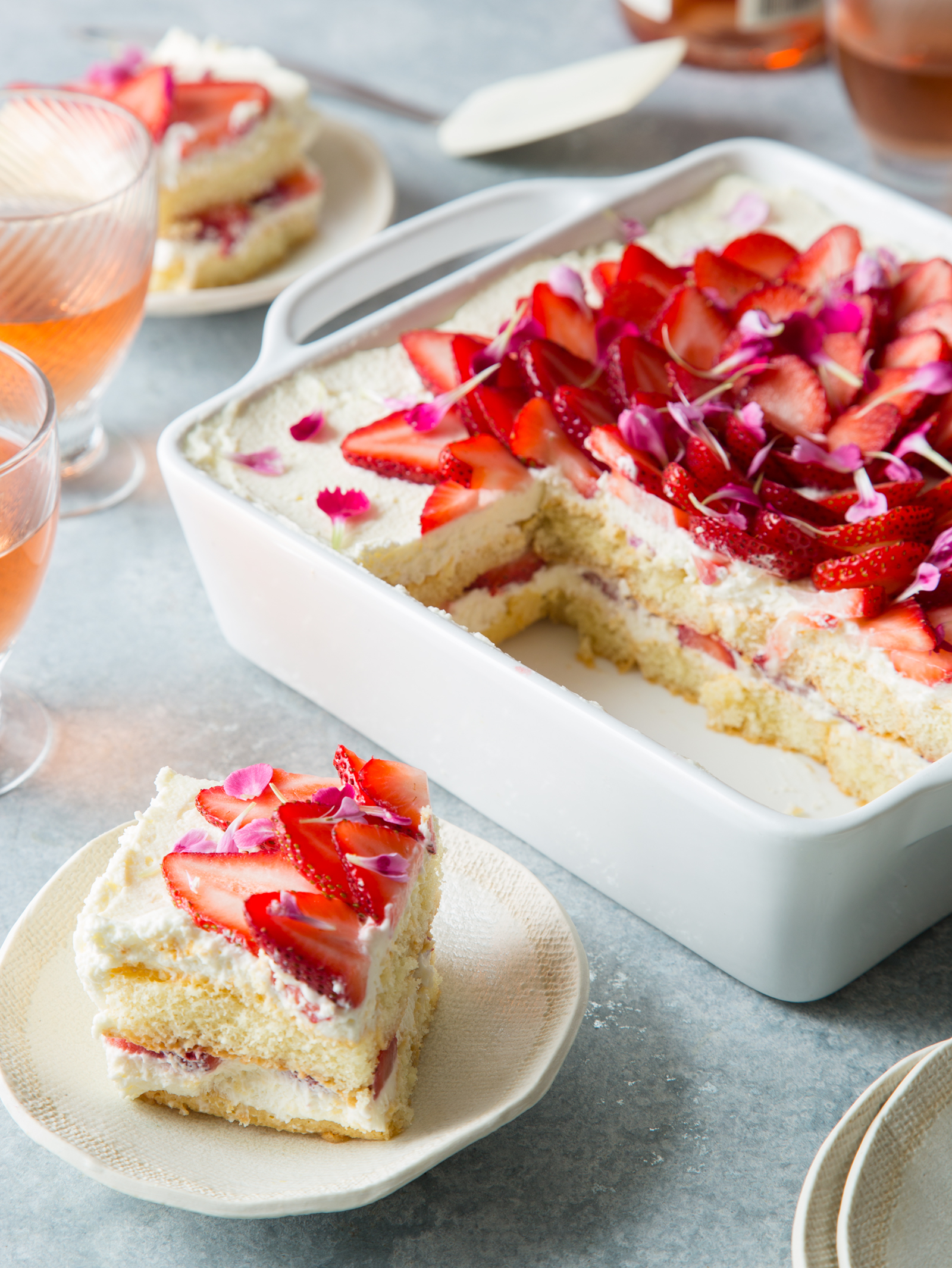 Source: http://allrecipes.com/recipe/15872/strawberry-tiramisu-for-two/?internalSource=staff%20pick&referringId=629&referringContentType=recipe%20hub