Cargazing: Luxury with performance
Blog
Jun 21th, 2016
Lexus hybrid can get 40 mpg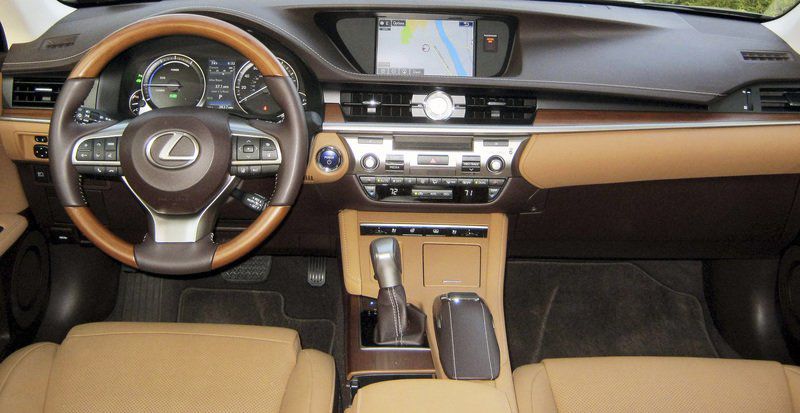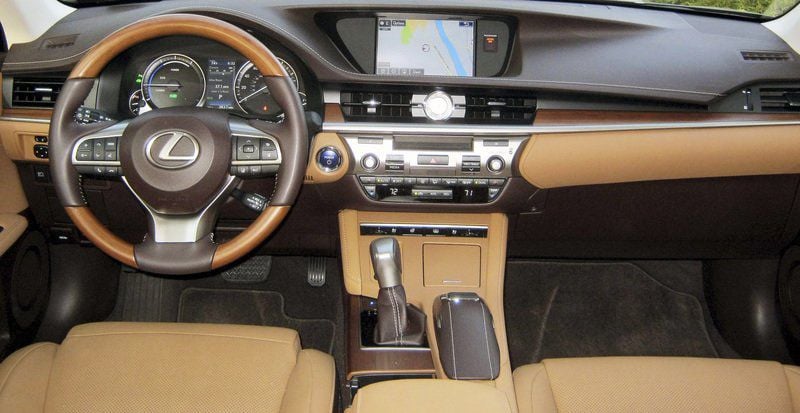 There's not a lot new to this year's Lexus hybrid sedan — but there is one big change out front that may stop you in your tracks.
All the fuss is centered on, well, the front spindle grille that has taken on a big snout. It started with the luxury car's F Sport and is slowly taking over the carmaker's line as the grille of choice. It is, to say the least, oversized. Lexus calls it "even bolder."
Horizontal chrome strips — there are 13 — span the front end, connected with variations of inverted chrome outlines, presumably in the shape of the Lexus logo. A smaller version of the design has been part of the RX line for years and has carried over to the newest NX crossover.
The distinct look is eye-catching and is centered on headlamp assemblies cut into the hood in a modern, chiseled look.
The entry-level hybrid model is drenched in luxury appointments and delivers on its fuel saving technology while offering brisk acceleration when needed. New interior and exterior colors have been added along with tweaks to available safety option packages.
A new 17-inch wheel design adds to the curb appeal of this sedan. Key competitors include the Lincoln MKZ Hybrid, BMW 330e plug-in hybrid, Infiniti Q50 Hybrid and Mercedes Benz C-Class Hybrid. Similar hybrid technology and drive can be yours with the company's less-expensive Toyota Avalon Hybrid, too.
New sound-deadening materials have been added to make an already quiet cabin more so. Interior space is enormous with plenty of legroom front and back for five adults. Build quality is uppermost in this Lexus model, with soft padded surfaces throughout an elegantly appointed interior.
Dashboard layout is precise and features a centered retro-analog clock located above a storage-minded center console with dual controls for its interface control. Driver and passenger seats are 10-way power, lumbar controlled and highly cushioned.
The ES 300h is the hybrid version of the popular ES 350 sedan, of which 64,969 cars were sold during 2015, an 11 percent drop from the previous year's sales.
Powered by a 4-cylinder gasoline all-aluminum engine and high-output Magnetic Electric Drive motor, total system output is 200 horsepower. All hybrids are front-wheel-drive and mated to an electronically controlled CVT drivetrain.
The hybrid's main focus, of course, is fuel economy. In a week of testing the new model we were able to achieve the EPA estimate of 40 miles per gallon in combined real-world driving. The sprint from a dead stop to 60 miles per hour was achieved in a respectable 7.5 seconds, good for its class segment. Base price is $40,920.
Behind the wheel of the new Lexus is a nice place to be — whether merging in highway traffic lanes, cruising along on interstates or in stop-and-go city driving. An available safety package includes radar cruise, lane departure alert and blind-spot monitors. We liked the cruise option, although other models offer a more functional full-stop-and-go whereas the Lexus drops off below 25 miles per hour.
Even with its minor deficiencies, the ES 300h is a top choice for consumers who want luxury, fuel savings and performance.
Len Ingrassia is an independent automotive columnist. Contact him at lenscarcorner@ptd.net.
What was reviewed:
2016 Lexus ES 300h
Engines: 2.5-liter 4-cylinder, Permanent Magnet Electric Drive Motor.
EPA rated mileage: 40 city, 39 highway, 40 combined.
Assembled: North American hybrid models assembled at the Toyota Motor Manufacturing facility in Japan. U.S./Canadian parts content, 5 percent. Major source of foreign parts, Japan, 95 percent. Country of origin, engine and transmission, Japan.
Crash test ratings: The Insurance Institute for Highway Safety (IIHS) awarded the ES 300h and like ES 350 non-hybrid sedan its highest rating of "Good" in moderate overlap frontal offset, side impact, roof strength and whiplash protection from rear impact. The National Highway Traffic Safety Administration (NHTSA) awarded the 300h five out of a possible five stars for overall safety with five stars for frontal and side impact collisions and four stars for rollover protection.
Warranty: 4-year/50,000 mile basic; 6-year/70,000 mile powertrain; 8 year/100,000 mile hybrid components; first two scheduled maintenance services.
Source: http://www.record-eagle.com/news/business/cargazing-luxury-with-performance/article_b906286d-3417-5a5e-91c6-40ec2d426d13.html