2017 Lexus LS 500h Moves the Luxury-Hybrid Class Forward
Blog
Mar 17th, 2017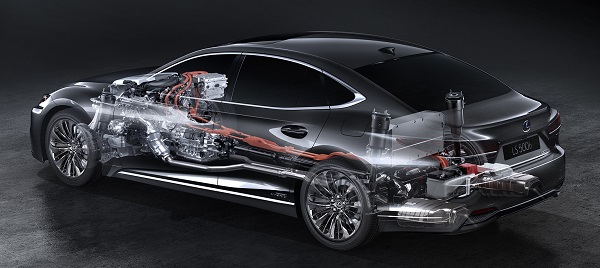 Lexus believes that its top models should be hybrids, and to that end, it has improved upon the LS Series with its new 2017 LS 500h. The new LS 500h hybrid sets a new, higher bar for premium hybrid performance.
Despite the constant barrage of over-hyped battery news, electrochemical batteries, like most technology products, advance in slow steps. The first improvement to look for in the new LS 500h is the higher capacity battery, which increases power density over the outgoing LS 600h L, but in a 20% smaller package.
The powertrain of the LS 500h starts with a 3.5-liter V6 Dual VVT-i V6 gasoline engine to which Lexus adds two electric motors, together delivering maximum system power of 354 hp. This is a relatively common power point for large premium sedans, and like most Lexus hybrids, the performance exceeds the expectations of most buyers. With a zero to 60 MPH time of just 5.4 seconds, the LS 500h is more than fast enough for any realistic street drive.
This quick sprint is achieved by the Lexus Multi Stage Hybrid System. Power from the V6 engine and the hybrid battery are be amplified by the four-stage shifting device, allowing much greater drive power when accelerating from a stop.
Lexus has yet to announce official MPG ratings for the LS 500h, but Torque News will bring those to our readers as soon as they are set by the EPA.
Source: http://www.torquenews.com/1083/2017-lexus-ls-500h-moves-luxury-hybrid-class-forward